Unlimited eBay Design...
Infinity is the complete enterprise level service for premium brands and ambitious sellers.
Infinity combines customer experience focused design with Frooition's powerful sales enhancing features and time saving software.
Infinity is a bespoke solution. Your eBay certified designer will personally consult with you, and work to your specification. They will then give you a design preview and invite you to give feedback. The design is not complete until you have a preview you are delighted with.
We apply the design to your live listings, install the design for you and support you ongoing.
Infinity is more than the appearance of your eBay listings. Infinity's supporting software streamlines and simplifies selling on eBay. It gives you the ability to apply design directly to live listings, set rules for how items will be cross promoted and edit listings in bulk from one easy to use dashboard.
What does it look like?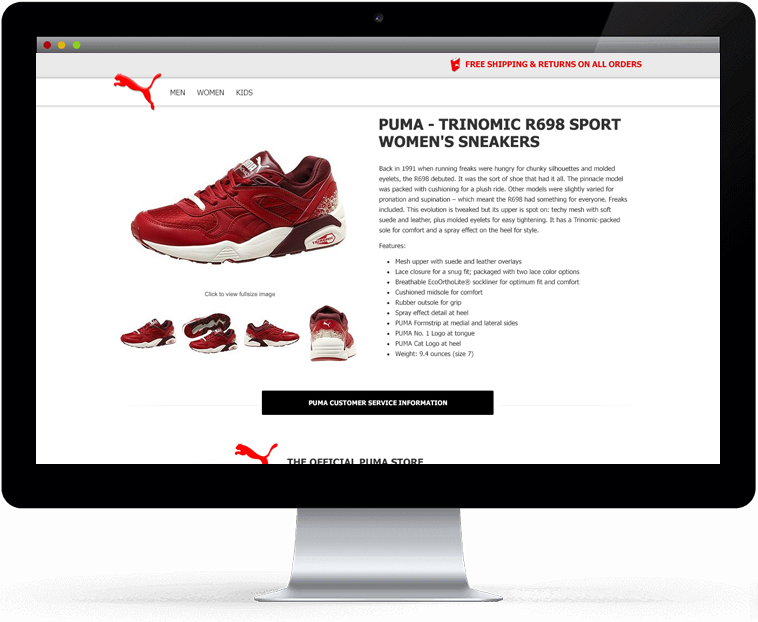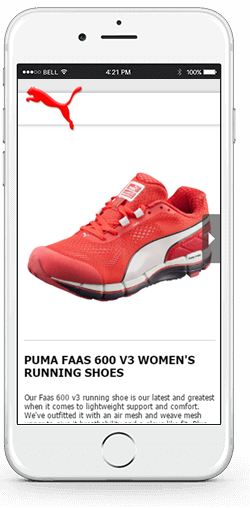 Ebay buyer behaviour studies have shown that search and listing are the pivotal decision points for converting browsers into buyers. Infinity design allows you to personalize your customer journey by showing customers different custom listing designs, based upon their search criteria.
Host multiple designs from a single eBay account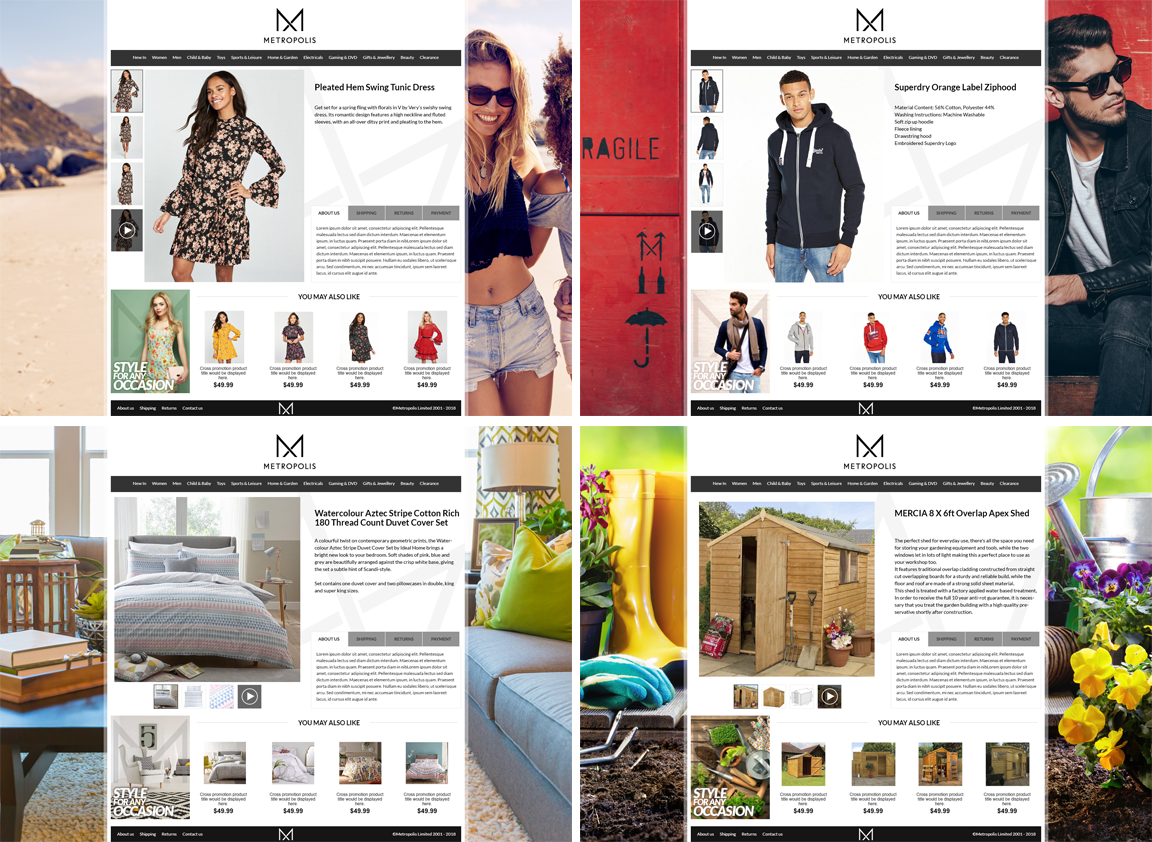 Enhance
categories by giving them their own distinct image
Improve
your customer's experience of them by including the relevant size charts, promotions and additional information.
Strengthen
your brand affiliation and encourage customer trust with custom branded designs.
Expand
your business on eBay by selling in different categories from one account - Maximising profits and growing positive feedback
What's Included?
4 custom product page designs

Custom Selling Options

Results Page Header

eBay Store page branding

Frooition Software Access

Design Applied for you
Infinity features:
4 x custom branded product page designs

Create up to 4 different designs for your eBay business. Alter the theme, style, or individual widgets on your listings.

Examples of different designs may include:

Normal and Sale items
Category specific branding
Gender specific branding
Brand specific branding
Different information sections for different products - e.g. Size guides for men / women

eBay store page branding

Add your logo and a header to your store page to carry your branding across from store and product listings, creating a unified brand across your eBay store.

eBay Listing Cleaner

If you have none-compliant content or existing design in your listing, we can remove it for you, leaving you with clean, beautiful listings.

Animated Dynamic cross promotion – unique to Frooition

Cross promotion is the most powerful sales boosting feature for eBay listings. Infinity's cross promotion scrolls to catch customer's attention. Being dynamic means that it's fed by your Frooition account and will only ever show live listings for items based on the rules you set in your Frooition software.

If a customer looks at a woman's shoe, the cross promotion will show them other woman's shoes you are selling. You can even set the cross promotion to show the customer women's shoes in the same size.

Dynamic Categories – unique to Frooition

Dynamic categories are fed by your Frooition software. If you want to add or edit a category, you simply make the changes in your Frooition software, and your design responds.

Mobile Responsive

Beautiful designed product pages on every device as standard.

Included Subscriptions
12 months access to Frooition software

Frooition software takes the work out of selling on eBay. Apply design to live listings, set rules for intelligent cross promotion, control categories and edit thousands of listings in a few easy clicks.

Bulk list directly to eBay
Export templates for all 3rd party listing tools
Control design features
Revise listings in bulk
Project manage your design
support tickets, videos and tutorials

12 months 2GB image & video hosting

Lightning fast hosting for your product photos and HTML 5 video hosting. Also optimizes your media to make the most of your storage.

12 months Bulk Revision

Bulk Revision makes it simple to make changes to all of your listings in one go. Need to update an element of the design, update thousands of listings in a few minutes.

12 months Auto Apply

Auto Apply takes the effort out of listing with custom design. Simply list using your usual process and watch your listings appear on eBay with full design applied.
You can even host multiple listing designs from one eBay account, and watch them apply to the relevant listings without any extra steps in the listing process.

Custom Options: (Optional Features)
Custom product page layout

Choose a 1,2 or 3 column listing.

Top level sub-header navigation

Add your top-level categories to your sub-header on listings, with drop-downs for sub-categories.


Custom header links

Add up to 5 custom search links to your listing header



Custom footer links

Add up to 5 custom search links to your listing footer.



Promotional Banner

We will create a static custom graphical banner to highlight key offers or products.

Brand Search Boxes

Add up to 10 of your most popular brands to your listings. When a buyer clicks the logo or text it will run a search for that keyword.



Category boxes

Add up to 9 graphical category boxes to your Listings. A graphical way for buyers to browse your categories.



Logo design

If you do not have an existing logo we can create one for you in vector format so it can also be used for print.


Category Product Listings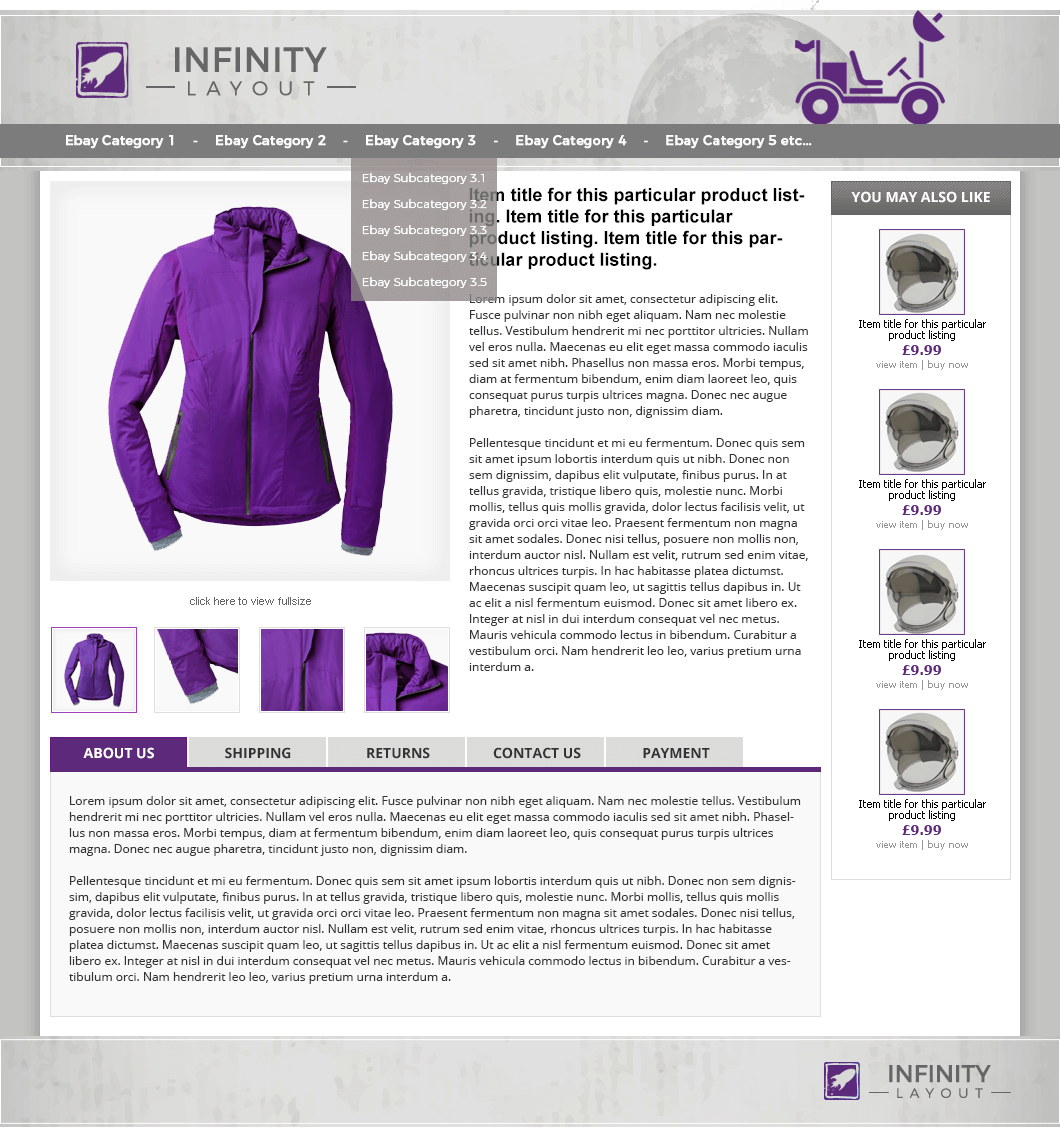 eBay Product Listing Design

Categories automatically update across all pages
Automatically cross promote related items
Active content compliant product listings
(no JS or Flash)
Image gallery with thumbnails
Seller information tabs

Mobile Product Listing

Mobile responsive listings
Works in app and mobile browser
Scrolling product gallery
Cross promotion

Professional Branding

eBay store page branding
Design consultation
Easy to use design requirements form
Multiple previews
Full installation
We can even apply the design to listings for you!

Frooition Software

Bulk list directly to eBay
Export templates for all 3rd party listing tools
Control design features
Revise listings in bulk
Project manage your design
support tickets, videos and tutorials
How will it help me?
Fast and easy design process

Transparent project management system
Regular email updates
Access to design project manager
Simple project requirements form

Increase your sales

Great branding increases trust
Clean layout instills confidence and reduces questions
Image gallery showcases great product
Cross promotion increases average orders
Beautiful design creates a memorable user experience

Save you Time

We can apply the design to your existing listings so you don't have to
Export template ready for 3rd party listing tools
List directly to eBay
Import listings from spreadsheet or BigCommerce

Make listing easier

Use eBay's product catalog
Use parts compatibility
Bulk launch listings
Option for Auto Apply for custom design to be applied to listings with no extra steps
Software Demo:
Book a personal demo of the Signature Software at a time that suits you.
Book a Demo