The Frooition Software is truly unique, it builds on our fantastic designs and gives them awesome power. The software makes eBay design easy to live with.
include varying access to the Frooition Software.
Software Features for all projects:
Project Management:
Every pro service includes access to the Frooition Project management tool to help clients manage their design progress and review previews.
Message Center:
Throughout the design process your project manager will send you a number of important emails outlining the status of your project. You can also access every message within the Frooition message center.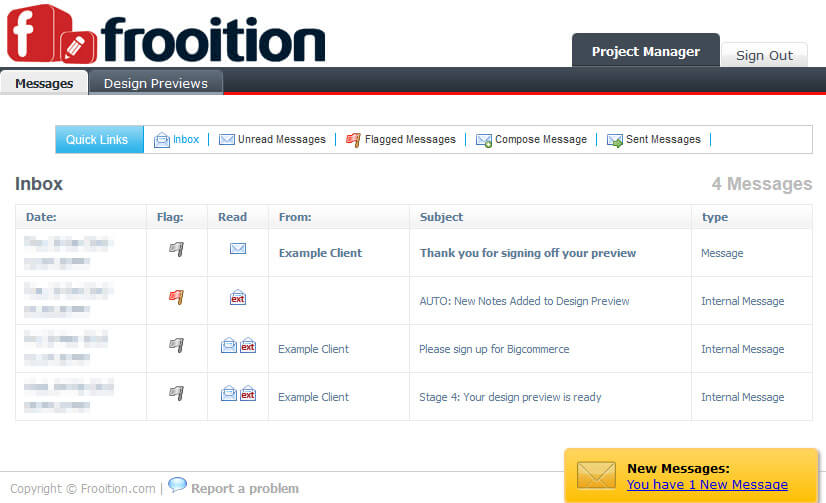 Here you can reply to messages or message your designer directly. Once your project is complete the message center will direct you to the support system allowing you to get the best response for your needs.
Design Previews:
Clients can view every preview with in the Frooition project manager as well as all feedback and responses from the design. This creates a record of any requests in a friendly, conversation style: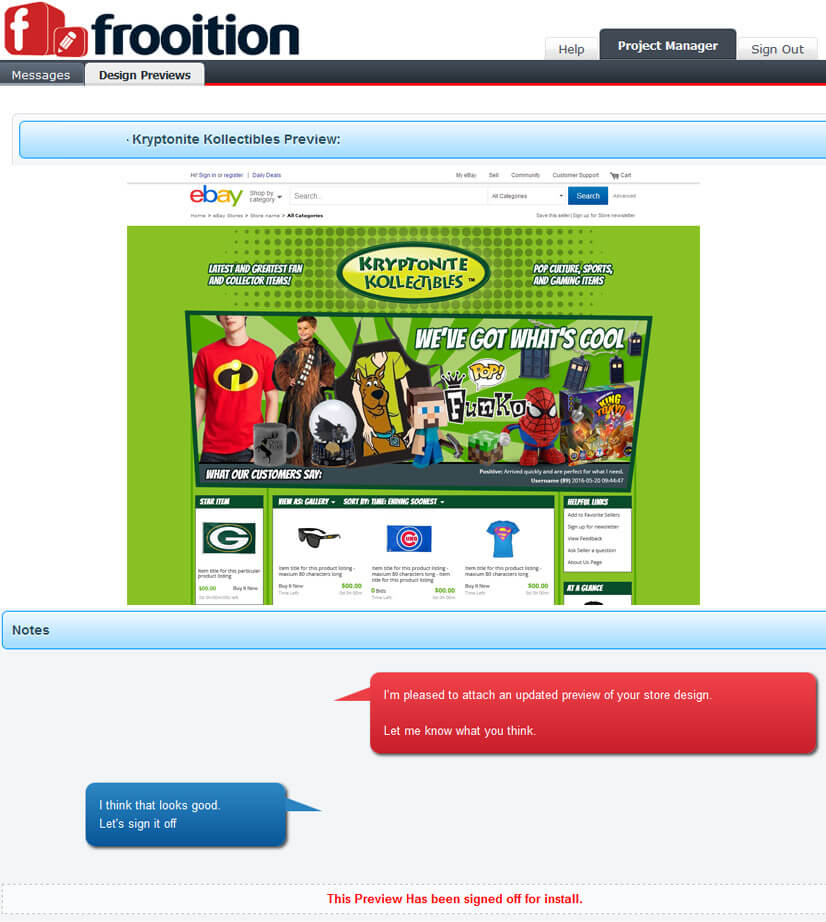 Once we create a preview you are delighted with you can sign it off which automatically sets the project to installing and alerts the designer and install team.
Checkout System:
The checkout system includes lots of add-ons that you can add to your design at any time. Purchase add-ons such as promotion banners and they will automatically go into our design teams work-flow for a rapid turn around.
Clients can also purchase subscriptions and export invoices in their own time without needing to wait.
Support:
Frooition have a large support system to ensure clients of all levels can get help quickly and easily.
FAQ - Knowledge Base
The extensive Frooition knowledge-base includes tutorials for our software as well as helpful guides for other eBay and ecommerce features (such as adding video to eBay).
Support Videos
We have created 60+ videos to help clients sell on eBay and use the Frooition software in a whole host of different scenarios.
eBay Category Feature Finder
Not sure what categories an eBay category supports? Use our free look up tool to see all the mandatory information you require for listing to eBay:
Free eBay Category Feature Finder
Ticket System
We have a powerful help-desk system that allows clients to raise support tickets directly within the Frooition software.
No need to find email addresses or dial premium rate numbers, raise a request directly in the Frooition software and our support team can get important technical details straight from your account.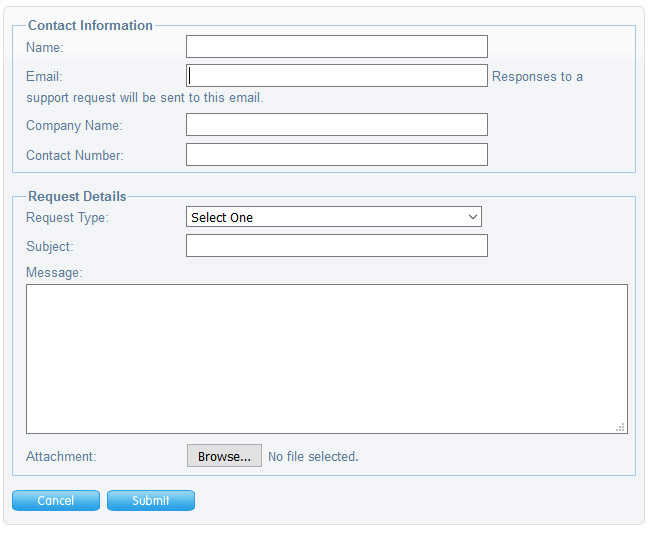 All tickets are responded to and assigned as soon as possible and most issues are closed within 2 working days.
Additional eBay Software Features:
In addition to the above features, eBay design clients also get access to the following software features:
Design Management
Promotion boxes
Create static HTML boxes or dynamic product promotions and attach them to your storefront.
Dynamic product promotions allow you to create galleries to showcase key products. Promotions can be filtered by category, keyword, price, time listed and buying format.

Store Categories
Update and manage which categories are dynamically shown on your store and listings.
Sync your eBay Categories, click update and all your live listings automatically update -
without the use of any active content
.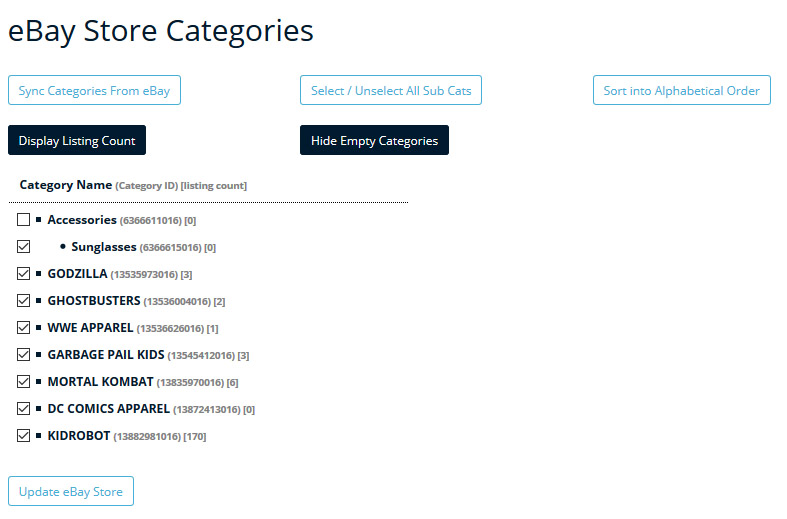 Seller Info Tabs
Each eBay listing has the ability to have up to 5 seller information tabs for important information that doesn't change between items.
The software allows sellers to update this information and even bulk apply the change to existing listings without the need to revise items or lose precious sales history.
Cross Promotion
Unique to the Frooition software, each listing has 4 dynamic cross promotion areas that promote products related items to each items.
Sellers can use the software to create rules to promote one category for any products listed in another category.
For example you could promote drumsticks with any item sold in the drum kit category.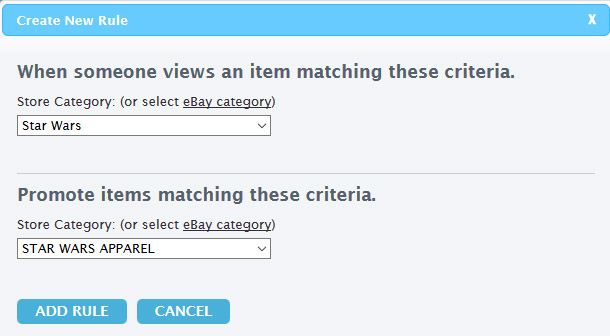 List to eBay
The Frooition software is unique as it allows sellers to utilize their design no matter how they list or what tools they use. Many other companies provide you with "flat HTML" and you have to manually recode every listing and paste the code into eBay. Frooition are different:
List Directly
List directly to eBay through the Frooition software using the eBay API. Upload you product photos, write your description set your category and item specifics and away you go.

You can even set up profiles to save you hours of work double keying.
Use 3rd Party tools
Frooition is compatible with all tag based 3rd party listing tools.

Simply pick your tool from the drop-down list and get a template ready to drop into your tool ready to go.
Bulk List
Upload a spreadsheet of products and list them all to eBay in bulk, you can even import products directly from BigCommerce.
Product Image Hosting
With Frooition you get access to Enterprise level image hosting with multi-location data centers.
Use our CDN to store your images with lightning speed.
Revise live items
Frooition's Bulk Revision Suite allows sellers to make changes to listings rapidly in bulk without affecting sales history.
Sellers can:
Change start, buy it now and reserve prices
... in bulk.