eBay's Promoted listings allow sellers to sponsor items and aim for the top spot in eBay search to leverage a competitor advantage.
Promoted Listings Standard gives sellers a super simple way to easily promote items: Simply select the items you want to promote, set a percentage of sale you are willing to pay as a comission and eBay will promote your items. When the item sells you pay that percentage to eBay on top of your normal fees.
This is known as a Cost Per Sale (CPS) model.
Promoted Listings Advanced is a new solution for higher priced items or items with lower margins. Instead of paying a percentage per sale, eBay have introduced a new Cost Per Click (CPC) model. Simply put, you select your item keywords and then bid to pay per click regardless if the items sells.
With our powerful Frooition Freedom software and reporting you can prune your keywords and budgets to become highly optimised and a very cost effective form of advertising.
30-day eBay Ads trial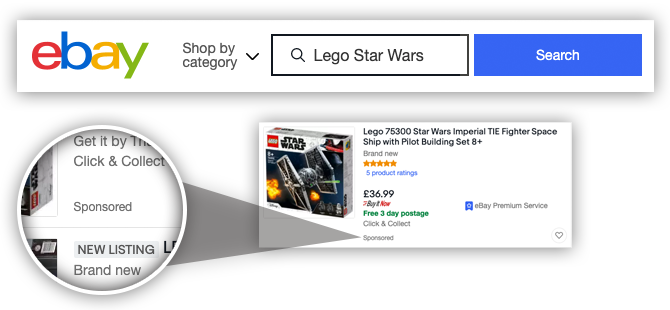 eBay Promoted Listings Standard
Cost Per Sale Advertising
Set your first campaign up in minutes, agree what percentage you will pay and keep full control of your advertising budget product by product.
Control Budget
Your budget will never get out of control, you will only ever pay when you sell an Item.
Fully Automated
eBay automatically take care of the relevant search terms based on your title, description and categories.
Visibility
Massively increase the visibility of your top items across eBay and related sites. Combine with Cross promotion to increase sales even further.
Ad insights
eBay let you know what items will perform as well as suggesting what budget would be competitive.