Are you cross selling on eBay to boost sales? As we mentioned in our 10 eBay essentials, cross promotion is a huge part of optimising listings.
One of Frooition's most powerful features is the dynamic cross promotion sections within every eBay product listing template.
Dynamic Cross selling on eBay offers alternative products from your eBay account within each eBay listing. The aim is to retain the buyer and encourage them to visit your other items on eBay rather than returning to the core eBay search and stop them from potentially buying with your competition.
Successful dynamic cross promotion directly increases sales, boosts conversion rates, improves click-through and increase average order values. A positive side effect of dynamic cross selling is it also boosts brand awareness – the more listings a customer views, the more exposure to your brand they receive.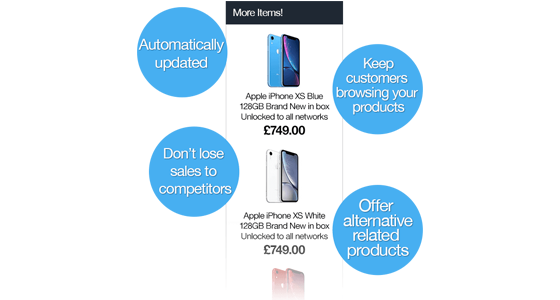 How Does Cross Promotion work?
Related items are picked and added to the Cross promotion section within the listing.
The items that are cross promoted are chosen via rules in the Frooition Software Items can be picked via category.
Items can be picked via category e.g. you could offer iPhone cases with any Phone in the iPhone category.
As promoted items are sold or prices change they are replaced automatically. No need to manually update any listings, the dynamic functionality does this for you.
The cross selling section is fully mobile responsive.
Here is a great example of a seller using the Frooition eBay dynamic cross promotion extremely well to retain buyers better and drive sales: https://www.ebay.co.uk/itm/113805948765

As an eBay certified provider, Frooition can help! We have helped over 5,000 eBay sellers worldwide grow their eBay Channel. With over 20 million live listings on eBay using a Frooition solution with excellent results!
See how to cross promote more effectively on eBay:
Click the 'Contact Us' button below to get in touch and see how we can help you get started with Cross Promotion today!