Frooition are delighted to announce the immediate availability of an exciting new advertising service in partnership with eBay. This service, eBay Promoted Listings, is now available to Frooition eBay customers within our eBay-certified Frooition software suite.
The Promoted Listings advertising service is a Pay Per Sale service and is the first release in the eBay marketing toolkit that allows eBay sellers to get more views and grow their sales through promoted and enhanced listing visibility.
It's not just about increasing your visibility on a search page, it's about visibility across the whole shopping journey including Search, View Item, My eBay and Browse pages together with other eBay locations exclusive to Promoted Listings campaigns
This new service offers the potential to increase listing views by up to 32% (average based on a comparison of item pages views before and after activating Promoted Listings in 2018 on ebay.co.uk).
How it works
eBay Promoted Listings is a paid for advertising service
Select the price (ad rate) you're willing to pay to promote your selected listings
The ad rate is a percentage of the item's final sale price
Anything from 1% to 100%
The higher the ad rate, the more highly promoted your listing will be
For example:
You're selling a mobile phone for £200
You've set an ad rate of 10%
You'll pay £20 if it's clicked on and sold within 30 days
Ad rates only applied to item price and not other fees
eBay Promoted Listings Availability
This new Promoted Listings service is available with:
Fixed price inventory
Nearly every category (except Wholesale & Job Lots, Cars, Motorcycles & Vehicles, Events Tickets, Property, E-Cigarettes, Vapes & Accessories and Everything Else categories)
Multi-quantity and single quantity price listings
Why you should use it
The Benefits
Risk-free

No cost per impression or click, you only pay when you sell
You're in control

An advertising service that is agile, and easy/instant to use
Switch it on and switch it off
No creative input or design work required
Long term impact – A service that benefits you in the long-term

When your item sells, it adds to the listing sales history
This can help boost its position in search results and improve the item's overall organic performance
Halo sales

Think beyond the click!
Free traffic is a major opportunity for branding and awareness
Engage future customers now who might:

Bookmark in browser
Add as a favorite seller
Watch an item
Remember you as a seller
Buy another item from you
How to get started
Promoted Listings is available now to all Frooition software users, just navigate to eBay > Marketing > Advertising
Get near real time data from your promotions in the advertising dashboard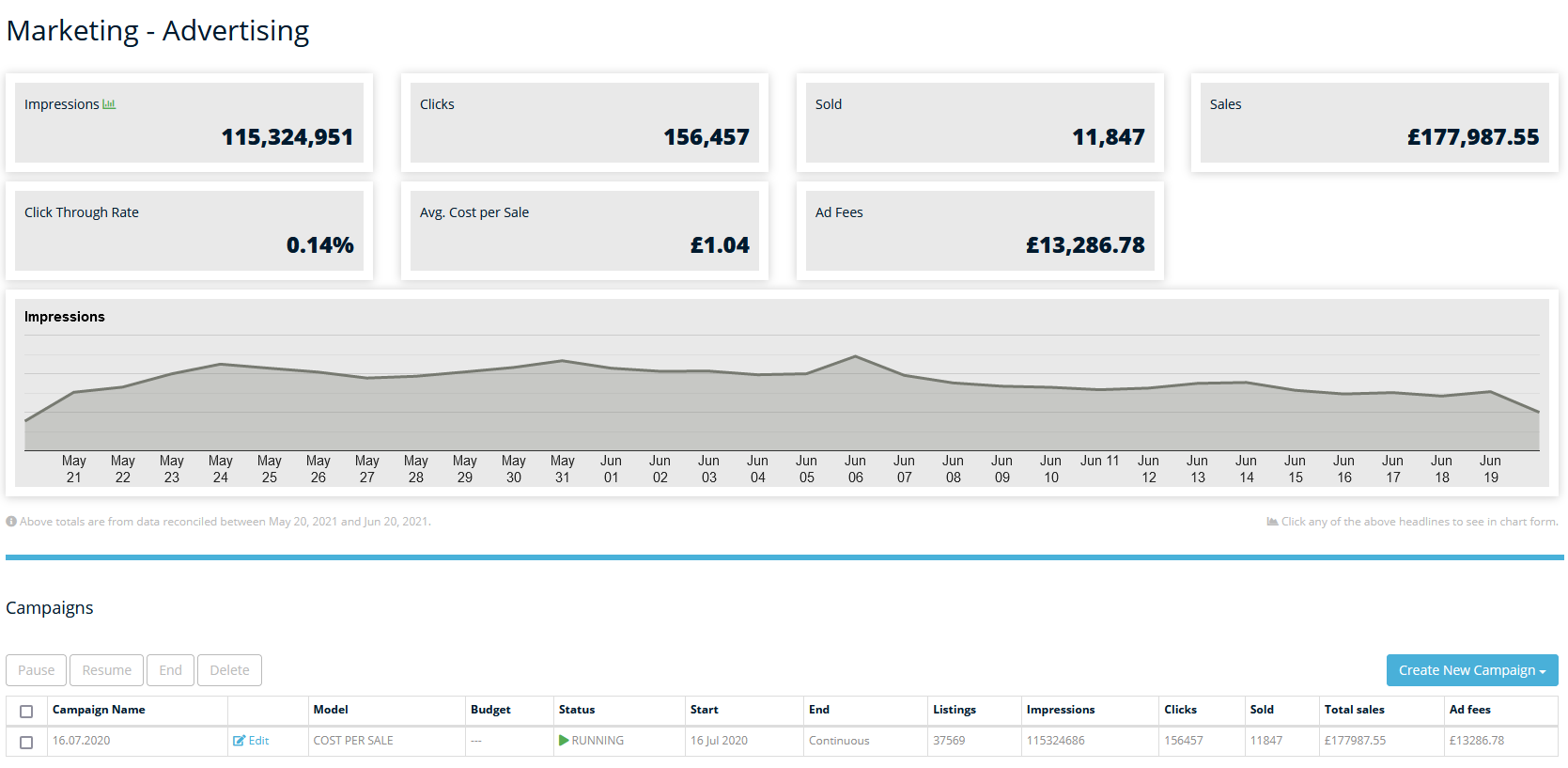 Useful tools to set your ad rate individually or in bulk
Frooition pulls in the suggested Ad Rate from eBay. You can alter this percentage on any of your advertising campaigns at
Thanks for reading about the brand new eBay promoted listings and advertising campaign.
We think that it's a great way for you to boost your sales and would recommend every level of seller gives it a go! If you need any assistance or guidance please contact our Support Team via the Help section in the Frooition software.
We respond to tickets with both speed and accuracy. There is also a fully stocked Knowledge-base with articles covering Frooition software and the eBay platform for free.
The link to open a ticket in Frooition software is: https://freedom.frooition.com/ticket
The link to Frooition's knowledge-base is: https://help.frooition.com