Our Best Ecommerce Website Designs in 2019:
As we cross the half way point of the year we decided to compile our list of the Best Ecommerce Website designs we have completed this year. We have rated the designs based on the UX (look and feel) of the site but also the UI and features of the site that make these sites unique.
1.Direct Plants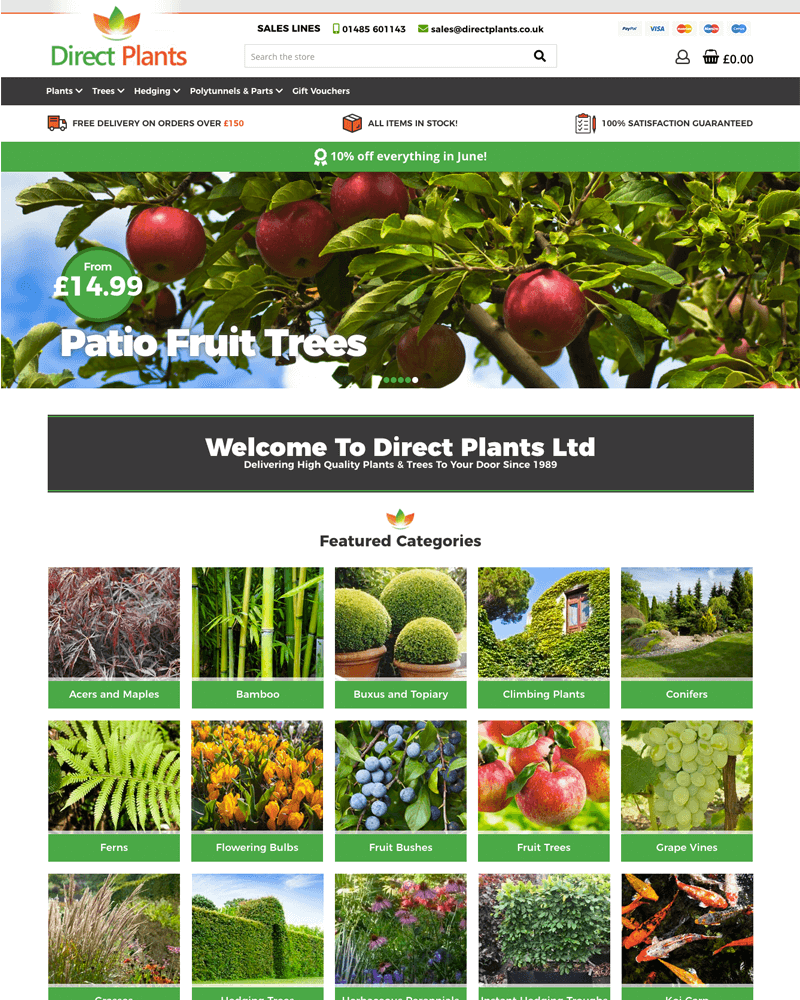 Direct Plants are a valued Frooition customer who were having issues with the speed of their existing store. The store was on a legacy self hosted platform. The site was taking in excess of 30 seconds to load and was being penalised in search as well as discouraging buyers.
Direct Plants contacted Andy at Frooition to see what was available and if we could help. We suggested that they moved to a more up to date platform that wasn't self managed. After discussing the requirements we recommended the SAAS BigCommerce platform as the best fit. DirectPlants has a very large and deep category structure that is better suited to BigCommerce's category system.
As well as the platform we also recommended that they utilise a 3rd party system multi-channel management service to help them track inventory across their sales channels. We recommended Linnworks.
The website remit:
One of the most import features for DirectPlants was the ability to help customers get to the correct category as soon as possible. However customers don't always know the name of the plant they are after. We built an extensive visual category structure so buyers can browse visually using a drill-down hierarchy.
Another required feature was the ability for the site to load quickly to alleviate the previous speed issues.
Best Ecommerce website features:
Drill down category boxes
We created a number of visual category box system and images so that users can browse categories by clicking the category images rather than searching or knowing the names of the products they required. This allowed less knowledgable customers to find exactly what they want without frustrating them.
In order for DirectPlants to be able to manage the categories in the future this was built dynamically using the category image within BigCommerce. All the team need to do is create a new category and upload an image to create a perfect, brand matching, category box!
Mega-Menu
Due to the large, multi-level,  category structure a simple drop-down menu would be confusing for customers and key categories would be missed. To fix this issue we built a custom full screen mega menu that displays all the sub-categories and children on one whole page. This means a user can look through the entire category structure without becoming distracted by other elements on the page.
Instagram Feed
Direct Plants were keen to share their daily life and stories with their customers in order to show that they were a passionate  and legitimate company that really knows a lot about their industry. They own a huge nursery packed with plants that they grow on site, showing this to clients was critical to show that these are home-grown local products rather than being drop shipped from overseas.
The best way to showcase this was through there, already popular, Instagram feed. Rather than build something from scratch, Frooition recommended a very popular BigCommerce app and integrated it seamlessly into the site protecting the DirectPlants brand.
2. School Wear United
School Wear United wanted to update their ageing site to be more modern but also to create a landing page for each school to be able to promote to their students and parents.
Already using the BigCommerce platform, School Wear United wanted to modernise in order to make the site mobile responsive but also have a cleaner more up to date style. The SWU (School Wear United) team were blown away by the preview that their designer (Kim) created.
Website Features:
Scaled Mega Menu with Responsive drill-down menu
Similar to Direct plants SWU had a large range of categories so also employed a mega menu. The difference with SWU was the mega menu was not a full-screen take over as the category depth didn't warrant this.  On mobile the menu structure shrinks down to a mobile friendly drill-down menu.
Fully mobile responsive design
As with all our Ecommerce website designs, SWU is fully mobile responsive and designed in a mobile first method. If an element can't be shown or doesn't need to be shown on mobile then it probably shouldn't be in the website at all.
All the banners, products and content "shrink" down to different layouts on mobile devices. For example products are displayed 4 across on desktop but change to 3 across on tablet and 2 across on mobile.
Custom school landing pages
A unique requirement for SWU was the ability to create landing pages for each school they supply. We worked with SWU to create a template page that would display:
The logo of the school
A dynamic google map of the school
The address and contact details
Information about the school
The categories of product for that individual school
The products for that school's uniform (using the school as a category)
In order to make this functionality work for SWU the product and category elements needed to be dynamic, meaning if a new line was added for new school it would automatically display in the landing page. We achieved this using the BigCommerce API.
Another concern for SWU was the ability to create new landing pages for new schools in the future. They wanted to remove the risk of being "held to ransom" by design companies. We were happy to help and built an interface for the team to easily create their own landing pages directly within the BigCommerce store:
3. Approved Performance
Approved performance sell "better than OEM" parts for a number of American made vehicles. They are hugely successful on eBay and Amazon but wanted to start selling on their own website.
Best Ecommerce feature for motor sellers:
They came to Frooition in partnership with Partsconnect to create a new, mobile responsive, website. The biggest obstacle they faced was fitment. Buyers need to know the part they are buying will fit their exact vehicle.
Frooition worked directly with Partsconnect to create an 8 stage part finder that only displays parts that fit the exact trim of the vehicle.
4. Allans of Netherton
Allans Of Netherton sell a number of different items. However a problematic product was their vehicle number plates. In order to provide a legal UK number plate a manufacturer must receive a copy of the V5 vehicle registration.
To solve this problem we created a custom product layout that allowed users to upload the V5 registration but also styled the number plate text entry to look like a vehicle numberplate.
Create your own best Ecommerce website ?
Do you have an Ecommerce website problem you need to solve?
We can probably help. Speak to us today and explain the issues you are having, if we can't help you ourselves our extensive partner network will be able to.