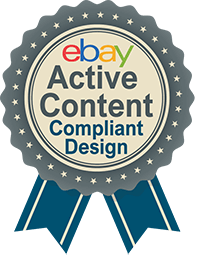 Top Seller eBay Design
We understand that it's not only important to have a great looking
eBay Shop design
but it's also essential to have the functionality needed to engage and enrich your buyers shopping experience with you.
Our
'Top Seller'
package comes with many exciting options such as branded search boxes, rotating product image galleries and side product promotions; all of which help to retain customer interest, up sell your products and
increase your eBay sales!
Take a look at some of our
Frooition Reviews
and see what people are saying!
eBay Shop and Listing Design
With the extra design functionality provided with
'Top Seller'
your eBay Store and Product Listing Pages will reach out to your clients, encouraging visitor interaction whilst inspiring confidence through professional branded design.
With the Top Seller eBay Design solution you get to choose 4 of the 7 options outlined below. If you want more than 4 then we can build this into your quote for you.
A few feature options of our eBay Design 'Top Seller' Solution:
(in addition to 'Advanced eBay Design')
Custom "Splash" Store Page Layout (Store only Custom listing layout optional extra)

Move away from the fixed 3 column layout
Focus on key product lines or your brand
Create an even more custom look & feel

Brand Search Boxes (Store & Listing)

Search By Brand Functionality
Up to 5 brand logos included
Brand Names must be available as categories or keywords in the title/description

Horizontal Sub-Header Menu (Store & Listing)

Up to 5 links included
Ideal when page visibility is of high importance - eg terms etc
Create an extra menu structure and improve navigation

Side Promotion Banner (Store & Listing)

Create great looking, professional promotions
Advertise important information such as free shipping or offers
1 Graphic included

Interactive Central Imagery (Store Only)

Display multiple images in one area
Image Transitions
Max 3 Images

Sub Category Boxes (Store Only)

Use high quality imagery to entice customers through to individual categories
Optionally choose to link to sub categories within each box
Up to 9 category boxes included

eBay Top Seller Store Design:

What is included with the 'Top Seller' solution?
Top Seller eBay Design includes:
Custom eBay Store Design
Up to 4 custom options from the list above
eBay Listing Design
Access to the Frooition design management software;

List directly to eBay
Export your listing design for use with 3rd party listing tools
Dynamically Update your eBay store categories
Create Custom boxes
and much more...
Why should I choose 'Top Seller' as opposed to your 'Advanced eBay Design' solution?
'Advanced eBay Design'
is a brilliant solution to increase your sales and establish your brand on eBay through clever World Leading Designs; however, our superior
'Top Seller'
solution creates the functionality and image of a major brand.
So, if you're looking to not only have a
World Leading eBay Design
but to have the prestige functionality of a large brand then
'Top Seller'
is for you!
Who uses Frooition eBay designs?
With over 260,000 happy clients, we have a huge range of large and small businesses who use our quality eBay Designs.
These include:

And many more...
What Happens Next?
To get started, simply call us today on T:
East: 512-831-7600 West: 323-300-6187
or
enquire online here
and our eBay Professionals will discuss next steps to enhance your eBay store and sales!
We're here to help. Simply complete our form above and we'll call you back to answer any questions you may have.