POWA Ecommerce Website Design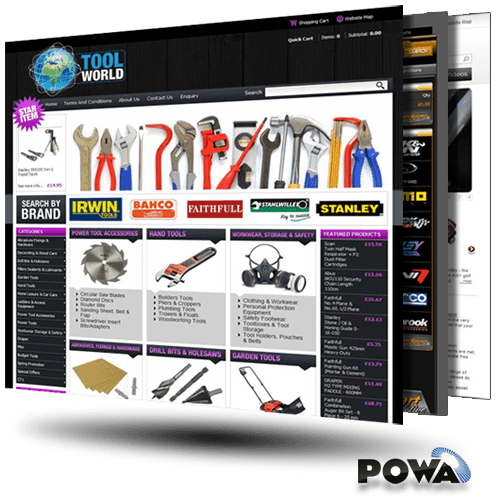 Our most popular Ecommerce Website Solution 'POWA', is the perfect ecommerce website platform for New and Medium size businesses.
Ready in as little as three weeks, we design the website to your specification so your
ecommerce website
looks and feels like your business. Our web designs are proven to enhance your customers buying experience and increase customer loyalty which means you have the best possible chance of making your online website a success!
You will really notice the difference with one of our ecommerce websites! Take a look at some of our
Frooition Reviews
A few benefits of our fantastic Ecommerce Website POWA Solution:
Rapid deployment - set the whole store up from scratch in a couple of hours - not days!
Very Simple and easy to use interface
Top level security (PCI lvl 1 compliance)
Entry level pricing
High Quality Custom Design
This fantastic ecommerce solution has many great features to help businesses get started online including inventory management, cross sell functionality, product import and export and so much more!
Key Ecommerce Website POWA Features:
Full Branding across all pages
Completely Bespoke design
Dynamic design - move elements round
Custom box design
Developed to compliment eBay store design and listing design
Product import wizard
Inventory Management
Full cross sell functionality
Google Analytics reporting
Add you own URL (e.g. www.mystore.com)
Email Included!!
Ecommerce Web design that counts...
Effective
ecommerce web design
is vital to make your ecommerce website a success, after taking a detailed brief with our professional advisors we work to ensure your design matches our reputation of 'World Leading Designs'.
Our 'POWA' ecommerce web design is available at two levels,
POWA Standard
and
POWA Bespoke
:
Feature
Powa Standard Store
Powa Bespoke Store
Custom Branding Based upon your Specification
Design framework applies across all pages
Design framework applies across all pages
Dynamic Categories and Brand links
Hi Visibility Search Box
Horizontal Sub Header Links
Custom "Skyscraper" right column banner
Dynamic element position (User can move elements around)
Bespoke layout
N/A
Professionally designed custom pages
Category Landing Pages
Rotating Middle Image
Brand Search Boxes
Side Promotion Graphics
Sub Category Boxes
Custom "Splash" Store Page
Matching eBay Store & Listing Design
Add eBay design to the Powa Store design and save 10%!
Who uses Frooition POWA Store Designs?
We have a huge range of large and small businesses who use our quality Powa Store Designs.
These include:
And many more...
What Happens Next?
To get started, simply call us today on T:
East: 512-831-7600 West: 323-300-6187
or
enquire online here
and our eBay Professionals will discuss next steps to enhance your eBay store and sales!
We're here to help. Simply complete our form above and we'll call you back to answer any questions you may have.